The carpet requires routine cleaning to remove dirt, dust, and stains. Regular vacuuming and spot treatment with stain removal products will keep your home's carpet looking fresh.
Carpets can also trap odors from smoking, cooking oils, production, and automotive fluids/greases. These odors can be hard to get rid of. Carpet Cleaning Orem removes those odors and can make your entire home smell better.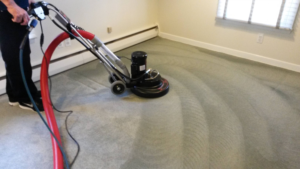 The vast reservoir of dirt that carpet holds makes it a prime breeding ground for bacteria, viruses and other microbes. This is especially true for dark colored carpeting, which hides more dirt and stains.
Carpets are coated with a thick greasy residue that comes from dead skin, pet oils and hair, dropped food crumbs and more. This residue acts like glue, drawing dirt into the fibers and holding it there until it is disturbed. The best way to keep your carpet clean is to avoid walking on it with bare feet and to encourage family, friends and visitors to wipe their shoes on an indoor/outdoor mat before entering your home.
Dirt is made up of tiny granules that can saw through carpet fibres and destroy them. Over time, this will result in bald spots and thinned areas. It is important to vacuum carpet regularly and have it professionally cleaned at least twice a year to prevent this from happening.
Another type of dirt is fine powdery soil such as sand, pollen and salt. This type of soil consists of small particles that are sharp and cause carpet to wear a lot faster than other types of soils. This is because sand and salt have the ability to cut through carpet fibers and split them at their base. This results in the appearance of a ragged and worn carpet that can also contribute to airborne allergies.
Even after a carpet is cleaned, there is still the problem of odors. Urine, faeces and other bodily fluids leave behind proteins that cling to carpet fibres and attract fungi and other microscopic organisms. These organisms cause bad smells that can be difficult to get rid of.
When this bacteria and fungi build up, they can become airborne and cause serious health issues for you and your family. These include rashes, respiratory problems and allergic reactions. If you suffer from allergies, the longer this grime builds up in your home, the worse your symptoms will become. Regular and proper cleaning will prevent this from occurring and help you enjoy a healthier lifestyle.
Researchers have found that carpets trap airborne particles and allergens until someone vacuums them up. Then, the particles are redistributed throughout the room, and the cycle begins anew. This can lead to a buildup of bacteria in the room, especially for those with asthma or other respiratory conditions. Carpets also have the potential to harbor mold spores and dust mites that can contribute to a variety of health issues.
Some studies have even linked the use of carpet with increased levels of inflammatory markers (IL-8 and Monocyte Chemoattractant Protein-1) in the air. These markers cause mucosal irritation and fatigue in the nose, eyes, throat, and lungs. This can cause employees to feel lethargic and decrease their productivity at work. Carpet cleaning can lower these inflammatory markers, making workers feel more energetic and improving their health at the same time.
Dirty carpets can also lose their original color, becoming dingy and gray over time. A professional steam cleaning or shampooing can help restore the carpet to its original color and make it look new again.
Regular carpet cleaning can also help prevent mold and mildew from growing in the carpet padding or underneath the rug, which can contaminate the rest of the floor and create an unpleasant odor. The steam cleaning process will wash away the mold or mildew and clean the carpet padding, preventing it from deteriorating and leaving an unsightly odor in the building.
Another way that carpets can become dingy is by dirt and debris getting ground into the rug's yarn. This can make the fibers tangled, creating a matted appearance that is difficult to remove. Regular carpet cleaning can avoid this and keep the tufts of yarn from getting tangled in one another.
Another factor that affects carpet cleanliness is how quickly it dries after a cleaning. It can take a while for the chemical solution used in the cleaning process to evaporate, and it is best to keep kids and pets off of the carpet until it is dry. Turning on ceiling fans and opening windows to speed up the drying process can also help.
Pets are wonderful additions to the family, but they're also a source of shedding hair and odor contamination in the carpet. The good news is that many of the same methods used to keep the rest of your home clean can be used to get pet hair out of the carpet. Vacuuming, specialized lint rollers, sponge mopping, and professional cleaning services are all effective ways to remove pet hair from carpet.
The key to keeping pet hair away from your carpet is regular vacuuming, especially if you have a high-pile carpet in a heavily trafficked area of the house. Vacuuming twice a week or more can help prevent pet fluff from getting deep into the carpet fibers. You can also try using a sticky lint roller for clothing (which you can find at your local store) to pick up the majority of pet hair before vacuuming. This method can be time-consuming and labor intensive, but it's often more efficient than trying to vacuum every strand of fur individually.
Another way to get pet hair out of the carpet is to use a sponge mop with water. This will force the hair up to the surface of the carpet, where it can be brushed or swept away. You can also use a carpet rake with rubber bristles to remove pet hair embedded within the carpet without damaging the fibers.
If you have a lot of ingrained pet hair in the carpet, you can try rubbing it with wet gloves or a pumice stone to loosen the hair before vacuuming. This hack works best on low-pile carpets, as it may damage the fibers in higher-pile fabrics.
Finally, you can try using baking soda as a deodorizer for your carpet and a natural pet hair removal agent. Simply sprinkle baking soda on the carpet, let it sit for a few minutes, then vacuum thoroughly. This can be a quick and simple solution for getting pet hair out of the carpet, and it will leave your home smelling fresh!
Grooming your pets regularly can also significantly reduce the amount of pet hair that is shed on your carpet and furniture. In addition, brushing can help remove dander and other contaminants that can cause respiratory problems or allergies.
If you have kids or pets, chances are you deal with stains on a regular basis. While these blemishes can be hard to clean, there are some things you can do to make the process of keeping your carpets stain-free much easier.
The most important thing is to get to a stain as soon as it happens. This will prevent the stain from soaking deeper into the carpet and becoming harder to remove later on. You should blot the stain instead of rubbing it, and you can use paper towels, a rag that you don't care about, or even better, a chamois cloth that is more absorbent.
You should also know the type of stain you're dealing with. Different types of stains have unique properties that require different treatment. For example, protein-based stains (like blood or other bodily fluids) are water-soluble but can turn dark and become more adhesive to the carpet fibers when exposed to heat or acidic substances. This can cause the stain to become permanent unless you treat it right away with cold water and an enzyme cleaner or dishwashing liquid.
Another reason why a stain may reappear after you've cleaned it is because of the residue. If there's any sort of soap or shampoo that remains in the carpet fibers, it can attract dirt and dust over time. The reappearance of these stains is often referred to as wicking.
Soiling can also look a lot like a carpet stain, but this kind of marking isn't usually caused by a spill. Instead, it's the result of oil substances or residue that lingers on the carpets and attracts dirt particles over time. You can often prevent soiling by getting to a spill or spot as soon as it occurs and using a good deodorizer in your home.
If you have an old, stubborn stain that just won't go away, try mixing equal parts vinegar and baking soda. Sprinkle the mixture onto the stain and let it sit for about 15 minutes. This will break down the stain, and then you can blot it up with a damp cloth or towel. Repeat as needed until the stain disappears.